As mentioned in our previous post, New Zealand was experiencing some once in 20 year, bizarre weather. As a result, thousands of tourists were stranded in Franz Josef and the north part of the South Island was completely cut off to the south due to roads being flooded or washed out.
Gerard arrived on possibly the worst day and we had no other alternative route other than to go north as there was no specific date as to when the roads would re-open. Gerard had two weeks in total in New Zealand so we planned a new route to allow him to see as much as possible in a short space of time. We have outlined the first week of this below. If you plan on visiting the northern part of the south island, we would recommend following this one week itinerary which covers all the main stops.
Day 1: Christchurch to Greymouth via Arthurs Pass
Distance: 243.6 km, Journey time: 3.5-4 hours
Gerard picked his van up first thing and we headed straight across Arthur's Pass. Although we had just driven across here a few weeks ago, the weather was much nicer and it was nice to get views from a different perspective.
We stopped at Castle Hill, a scattering of hundreds of weathered limestone boulders that emerge from the tussocky hills. This is also a great place for outdoor bouldering. Next stop was Arthur's Pass town for some lunch. Just north of Arthur's Pass village is the Devils Punchbowl waterfall walking track. We didn't stop here, but we have heard that it definitely worth the pit stop if you have the time. It is a 2 km return easy walk through forestry with the reward of seeing the 131 m waterfall at the end.
Campsite

:

We stayed for one final night at the Coben Beachfront freedom campsite.
Day 2: Greymouth to St. Arnaud
Distance: 221 km, Journey time, 3 hours
We left early this morning as we had a long journey ahead of us. Our route took us back up the west coast via Westport. First stop on this route was the Punakaki 'Pancake' Rocks. There is a really nice 30 minute walk that brings you along the coast and gives you a great view of the rocks and the blow-holes.
The last time that we drove down this route, we stopped at Cape Fowlwind and did the coastal walkway and visited the seal colony. We decided not to go here today as we had planned on visiting a fur seal colony on the Kaikoura coast. However, if you love seals and wildlife we would recommend stopping off here. We have written about this in more detail here.
We continued inland towards the Nelson Lakes, stopping many times for photo's and to admire the views. About 75 km from St. Arnaud, we stopped at the Buller Gorge Swing Bridge. This was only NZ $10 per person and was a lot scarier than we thought it would be. There is also the option to zipline back across the river Buller if you are brave enough.
Finally we arrived at St. Arnaud, home to the beautiful Lake Rotoiti. The amazing view as you drive down to the lake was just as spectacular as the first time around. We are so delighted that we had the opportunity to visit here for a second time.
Campsite

:

Freedom campsites around the Nelson Lakes are sparse, with the closest one a 45 minute drive away. Luckily Kerr Bay campsite that was closed when we last visited had re-opened, with all new facilities. It is only 100 metres from the lake edge and well worth the NZ $40 per night.
Day 3: St. Arnaud
Keen for Gerard to get the views over Lake Rotoiti, we went on the Mount Robert hike we had done previously. We were treated to a blue sky and got savage views. Although the hike is tough, it is definitely a must if you are visiting Lake Rotoiti. As we've done the hike before, we have discussed the track in more detail on this post.
Despite the excessive amount of sandflies lingering around, we were reluctant to leave so camped for one more night here. Luckily, we got an awesome sunset after an evening of chilling with beers and games.
Campsite

:

We stayed one more night at Kerr Bay campsite.
Day 4: St. Arnaud to Richmond via Abel Tasman
Distance: 249 km Journey time: 3 hours
We reluctantly left Lake Rotoiti and continued north towards Marahau one of the start point's of the Abel Tasman Coastal walkway. We had visited the other side of the walkway a few weeks ago (you can read about that here) but we were keen to see what this area was like.
We walked along the walkway for about an hour and it was beautiful. We got gorgeous coastal views over the Tasman sea. There are plenty of beaches and bays where you can go for a swim. We were lucky enough to find a spot through an arch that we had all to ourselves. We went for a swim in the freezing cold water before heading back to the van's for some lunch. We have included a picture of the full walking track below.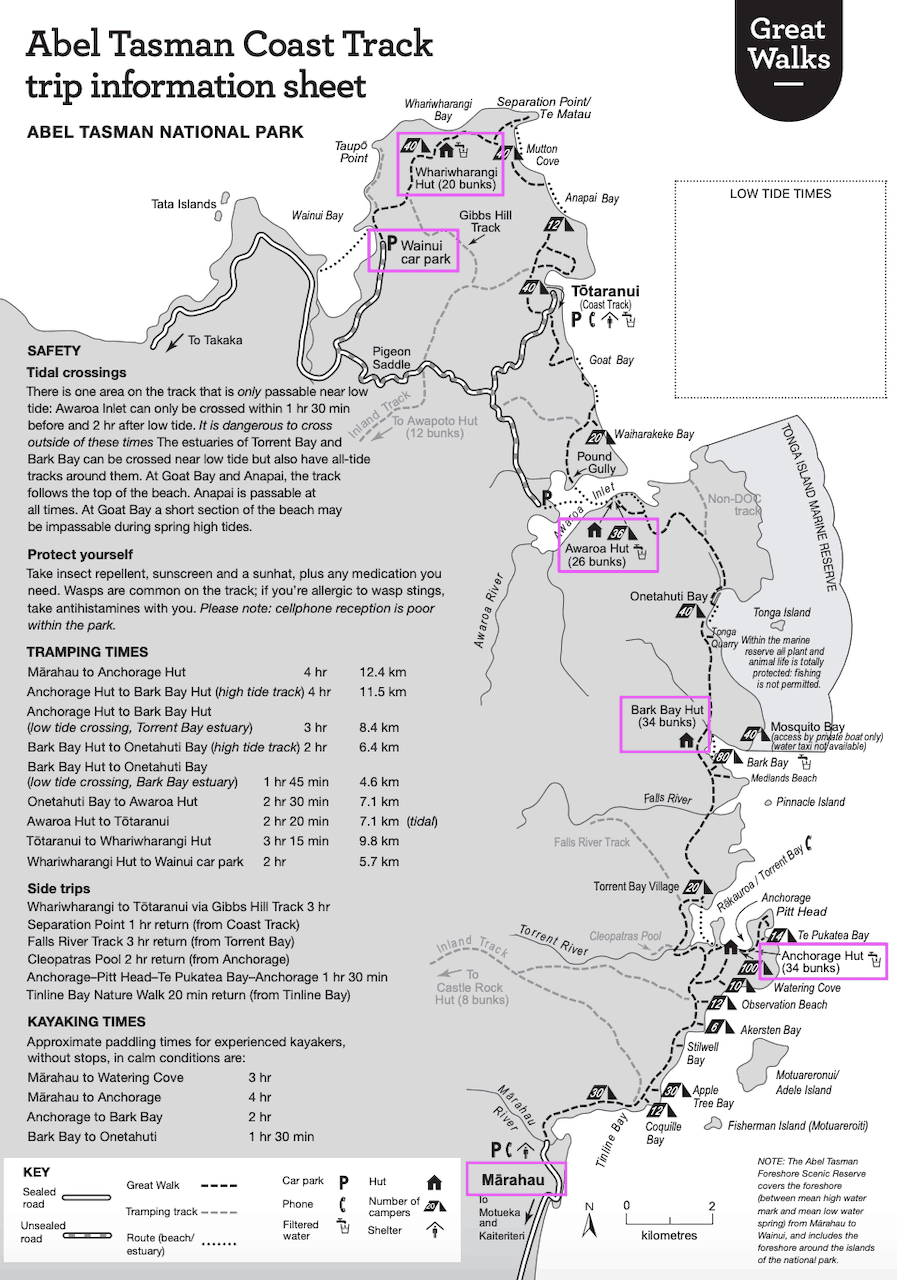 We continued along the northern coast to Richmond where we would spend the night.
Campsite

:

We stayed at the Fittal Street carpark freedom campsite.
Day 5: Richmond to Cloudy Bay
Distance: 132 km Journey time: 2 hours
We stocked up on supplies at the Richmond Pak 'n' Save before driving towards the Queen Charlotte Track in the Marlborough Sounds. As we were driving we stumbled upon another walkway called the 'Cullen point lookout'. This was an easy half an hour return walk with amazing views over the sounds.
Next stop was the Queen Charlotte Track where we had lunch before completing the first 5 km of the track. We have done part of this track before, which you can read about in more detail here.
Final stop of the day was Picton. Unfortunately when we arrived here it had started to get really cloudy and rainy so we didn't get to complete the Tirohanga walking track. At the top of this track you can get amazing views over Picton and the Marlborough Sounds so we would highly recommend this if the weather is on your side.
Campsite

:

We camped at the Wairau reserve campsite for the night which overlooked cloudy bay beach.
Day 6: Cloudy Bay to Kaikoura
Distance: 142 km, Journey time: 2 hours
Today we ventured down the east coast aka Kaikoura coast to Kaikoura town. Whilst there are not a significant amount of tourist attractions en route, the costal scenery is second to none. We found ourselves stopping regulary for photos before reaching out first intended stop; the Ohau seal colony. A thirty minute drive north of Kairkoura, there is a 500 metre viewing platform to see hundreds of seals chilling on the rocks and swimming to their hearts content. It's free to stop off and look so if you're around Kaikoura then make sure to take a spin out.
We stopped in Kaikoura town for the night, and explored the town's nightlife. There is an Irish bar, which is questionably Irish, called the Strawberry Tree, that had live music on every night and is one of the busiest bars in town. There are a number of other options of activities to do around Kaikoura. The most well known of these activities is Whale watching. You can also swim with seals, swim with dolphins or go out dolphin watching. If you are interested in doing any of these activities make sure you book in advance. A really good website to book any activities in New Zealand is 'bookme.co.nz'. We will be doing a whale watching tour when we return next week with Roisin's parents so we didn't do it this time around.
Campsite:
We stayed at the Alpine-Pacific holiday park which was only a 10 minute walk into town. It cost $48 for a powered site but had great facilities, a hot tub, and brilliant views of the surrounding mountains.
Day 7: Kaikoura to Christchurch
Distance: 181 km, Journey time: 2.5 hours
We had a bit of a lie in the following morning and made use of the two outdoor hot tubs at the holiday park before we started the final leg of the journey with Gerard. The first 30 km of the road is right on the Kaikoura coast, with gorgeous coastal views. After this the road continues inland as far as Christchurch with beautiful green rolling hills and vineyards either side of the winding road.
When we arrived in Christchurch we decided to stay at the same campsite as last week as it was reasonably priced and had good facilities. As this was our last night with Gerard we went into Christchurch city centre and had food in the Little High Eatery, a must if you are in Christchurch. There is everything from burgers and pizzas, to noodles or rice to choose from. We tried to find some nightlife in the city, but as it was a Sunday it was really quiet and a lot of places were closed, so we had an earlier than expected night.
Campsite

:

We stayed at the Christchurch Kiwi Holiday Park, which we had stayed at the week previous.
---
And thus ends our speedy one week tour of the northern part of New Zealand's South Island. We're used to a slower type of travel, and usually like to spend a bit more time in each place, but if you are looking to see the highlights of the northern part of the South Island this itinerary should have everything covered.
---
Thanks for reading,
Róisín & Bernard